Czy wiesz, że Twój 1% podatku ma wielką moc?
Trzeba przyznać, że nasz Front-end Developer Monika Borawska to super babka! To właśnie min. dzięki niej powstały strony takie jak: Mooseinc
https://mooseinc.eu/
i Molecular
https://molecular.com.pl/
. Jest jedną z osób, które z uśmiechem napędzają innych do działania. Stawiają sobie cele i konsekwentnie je realizują.
W życiu? Jak każdy z nas, pracuje, ma swoje pasje, marzenia, decyduje o sobie i jest szczęśliwa.
Jednak na codzień musi mierzyć się z niepełnosprawnością, co powoduje wiele utrudnień. Kluczowa jest systematyczna rehabilitacja i wsparcie specjalistów.
I choć medycyna bardzo się rozwinęła i w zasięgu ręki jest wiele technik, zabiegów i rehabilitacji, które w REALNY sposób wpływają dobroczynnie na poprawę życia osób z niepełnosprawnościami, jest jedno małe ale, no właśnie, ALE tanie nie są!
Przekazując swój 1% podatku dochodowego pomagasz w pokryciu kosztów codziennej rechabilitacji.
Dlatego Twój 1% podatku ma wielką MOC, a przekazanie go nic nie kosztuje! NIC.
Działajmy razem!
KRS:0000270809
Cel: Borawska, 12108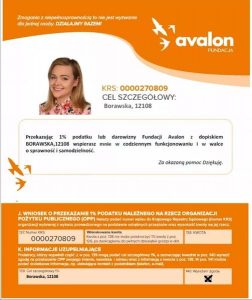 Life in Moose